Tiana & Evangeline – Our Unregistered Kunekune Gilts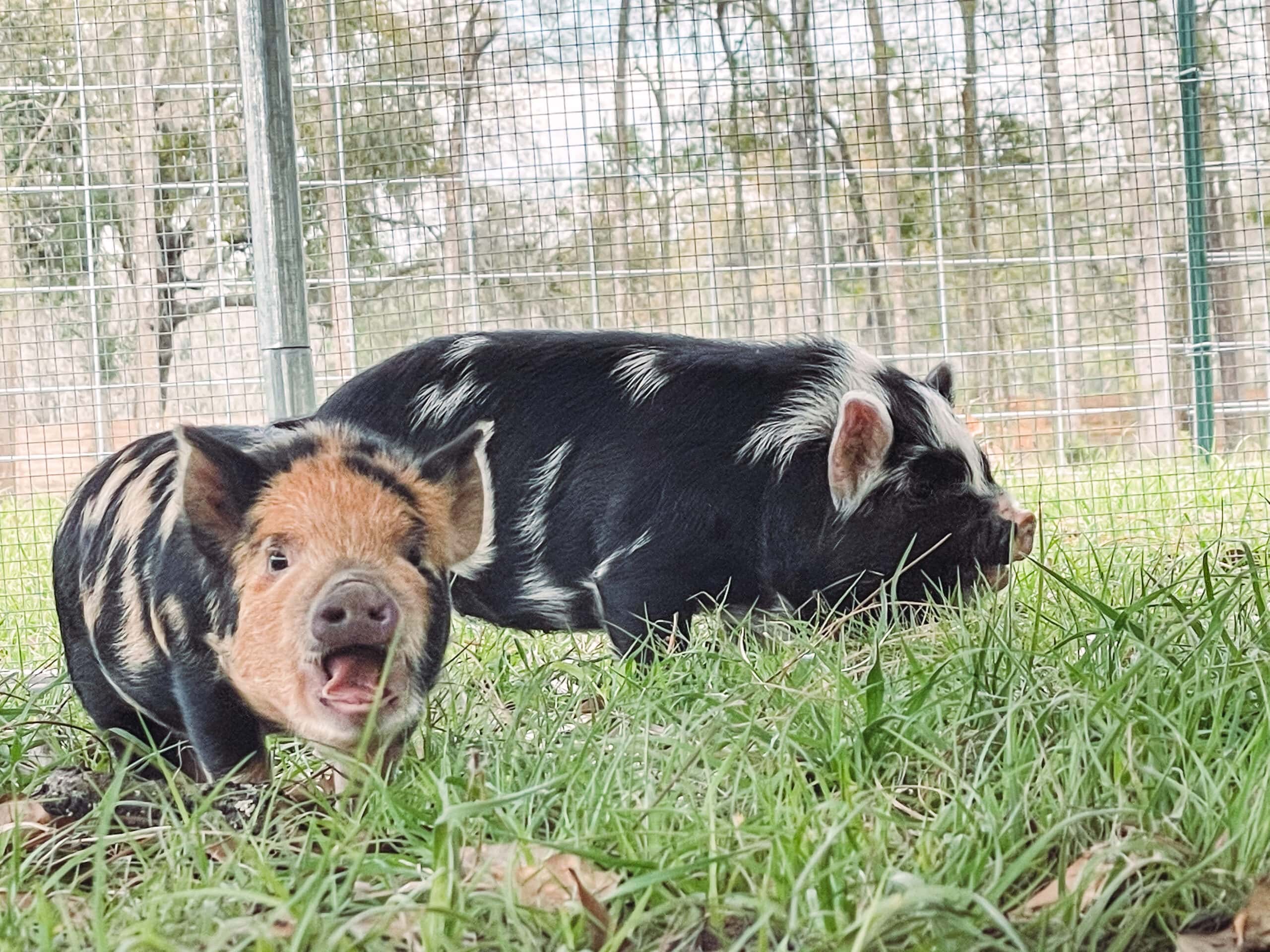 The first rule of Kunekune club is it is better for the breed if they are registered. The second rule of Kunekune club is you have to do what is best for your homestead. That being said, I did not want to jump in to owning a breed I was unfamiliar with. I also didn't want to invest in registered piglets until I knew it was something I wanted to do. That is how I ended ip with Tiana and Evangeline. The two sweetest unregistered Kunekune gilts ever!
Their Backstory
I already told you how I had been researching Kunekune pigs for months before deciding to purchase. In my research I joined some local farm groups on Facebook and stumbled on a local farm selling unregistered Kunekune gilts. Tiana (the black and white gilt) was the one I saw and fell in love with. We honestly went to go pick her up the next day. Little did I know I would come home with two.
Kunekunes do better in pairs and when we got to the farm they had a second litter that was two weeks younger. I decided to take both gilts (unbred females). The rest is history.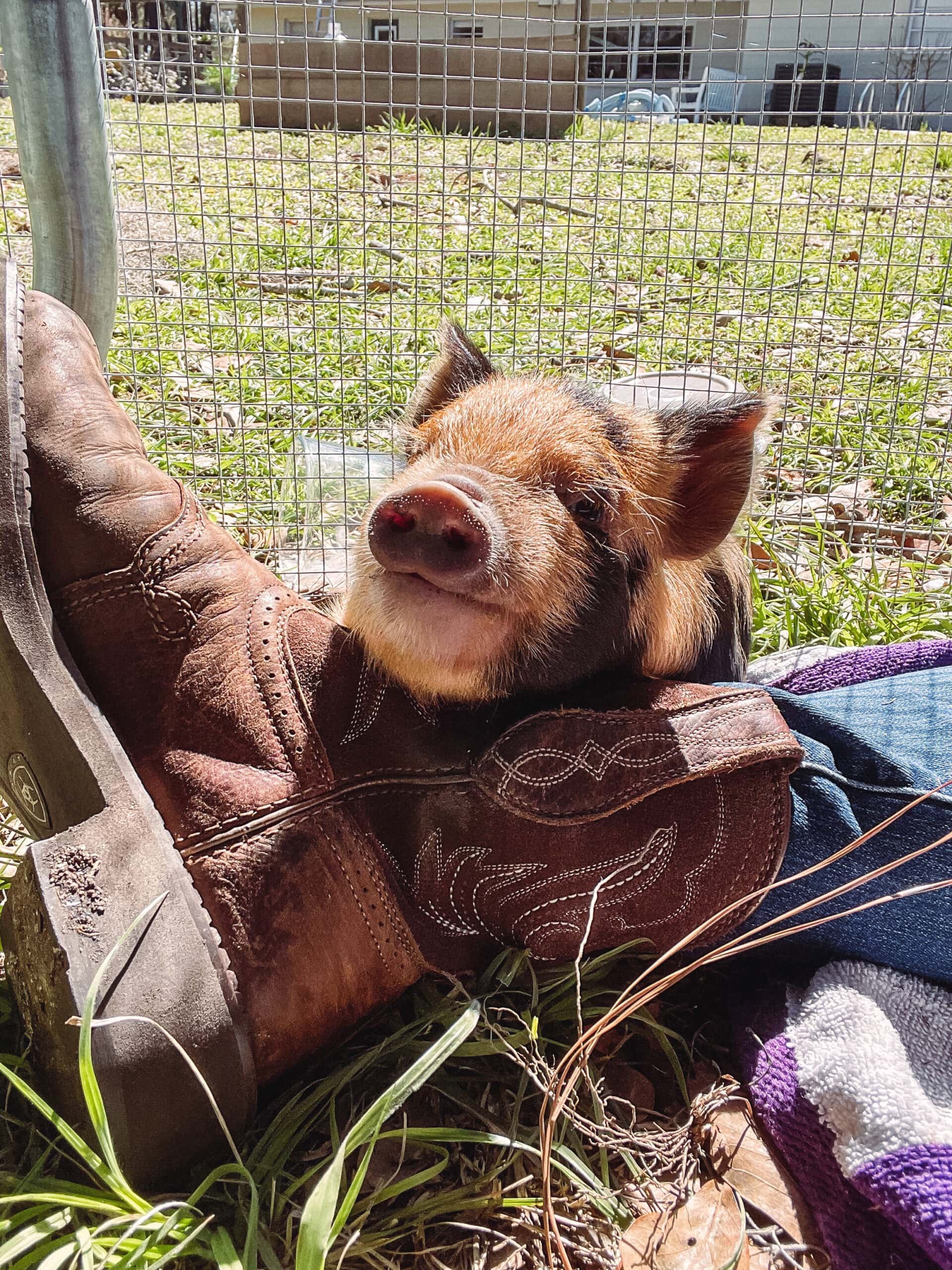 Things I didn't know
Things that I didn't know at the time that I do now. Piglets should NOT leave their moms until 7-8 weeks of age. We brought Tiana home at 5 weeks and Evangeline was only 3 weeks. That makes for some very cute tiny piglets, but can also be dangerous for their health. They ended up living inside for a couple weeks until they were big enough to move to the barn.
Being so young meant they had to eat more frequently. Evangeline still needed milk (which she drank from a bowl). Honestly, Tiana did too. They did learn to potty train fairly quickly (just 2 days). Kunekunes are clean and tend to potty in one area, so this made clean up easy.
Benefits
Not to be all doom and gloom about having such young piglets. We did watch them very closely for the first few weeks, and got tons of snuggles. I would say we are super bonded to them because of that. They come when called, climb in my lap, and are just the sweetest things ever.
Tiana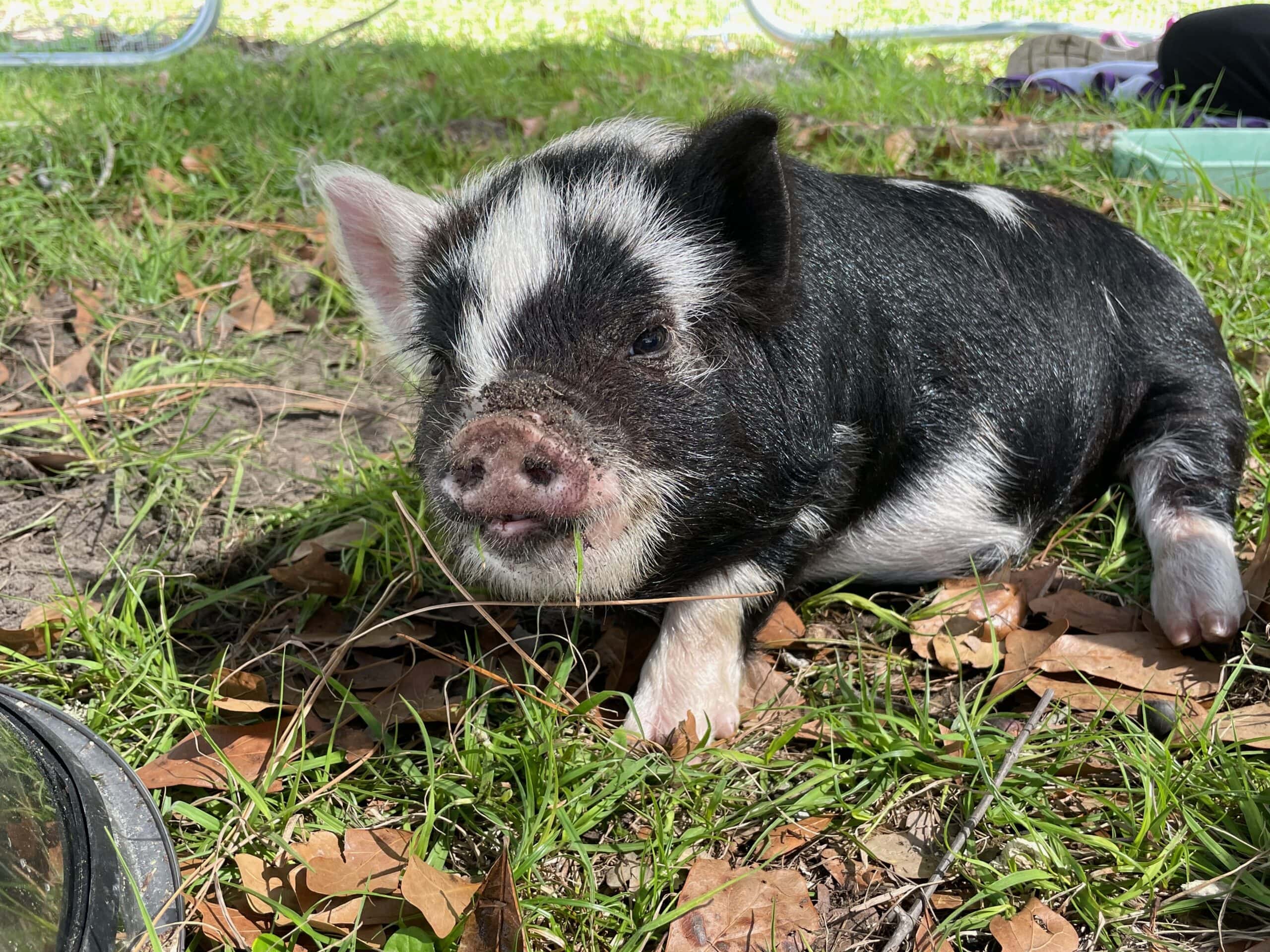 Miss Tiana here is queen bee. Sometimes we call her Teetee or Tia. Named after the title character in Princess in the Frog (because we brought them home on Fat Tuesday). She is the oldest being born on January 15, 2021. She is black and white with little patches of brown. She is growing much faster than her sister (which some Kunekunes do). I have also noticed that she tends to overeat more, so we have been watching her for that. She adores belly rubs and laying in her pool.
Evangeline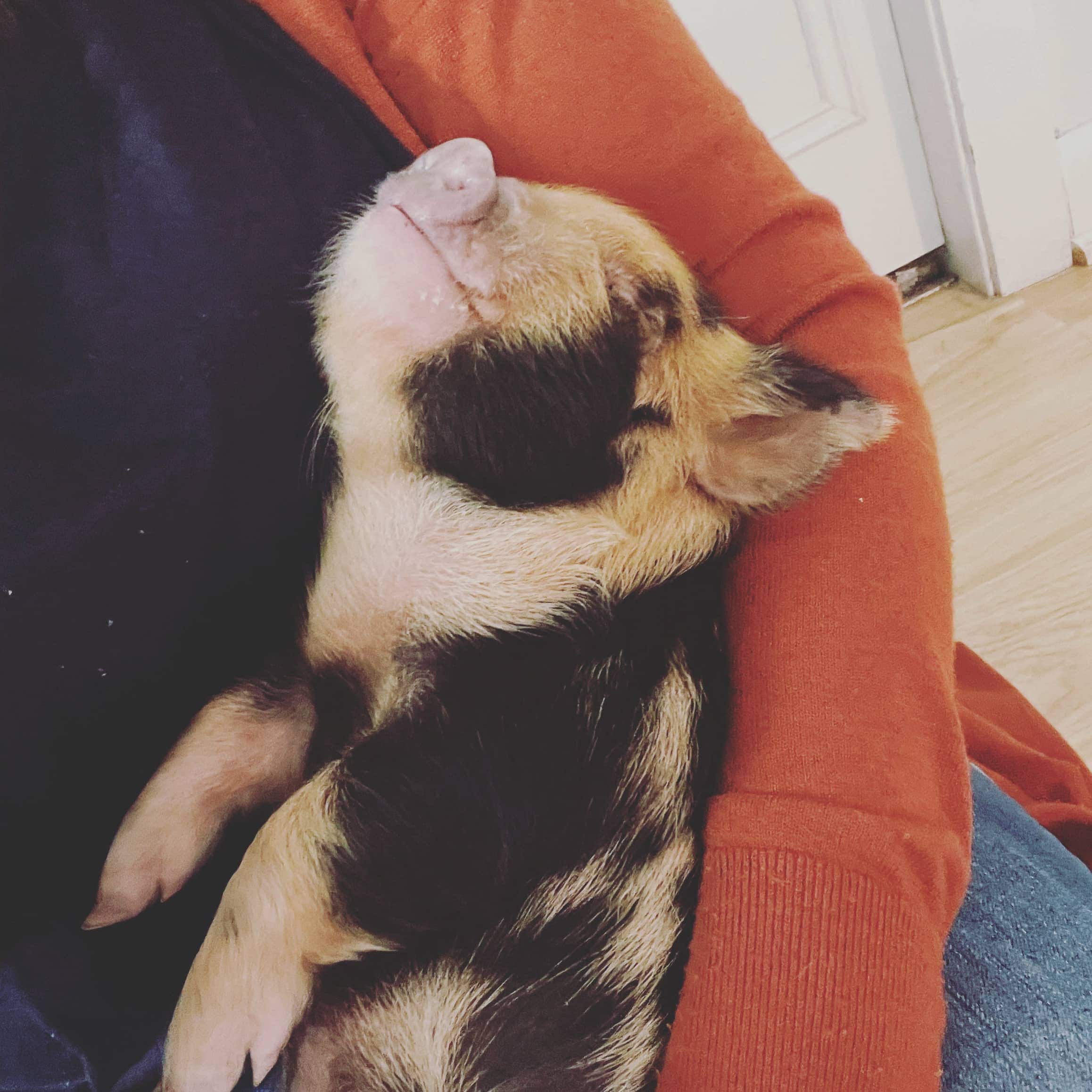 Evangeline (Aka. Leeney Lou). She was so tiny when we brought her home. The first day I had to feed her milk from a dropper. I was so worried! Now, she is thriving. Her and Tiana are half sisters, they share a father. She was born on January 26, 2021. She is Ginger with Black spots and is growing at a normal rate, not as fast at Tiana.
I have never seen a farm animal with such a sweet personality. She comes running when she hears me and lets out the cutest little grunts. As soon as I sit down she jumps in my lap. She loves belly rubs and will dance for some sugar snap peas. Just a precious little sweetheart.
Purpose
Both of these girls taught us that we wanted Kunekunes permanently here on our little farm. They are forever pets. We will eventually breed them and sell their unregistered offspring as companions to the registered piglets we will offer here. Right now they are growing and living their best lives laying in the grass and watching the chickens.