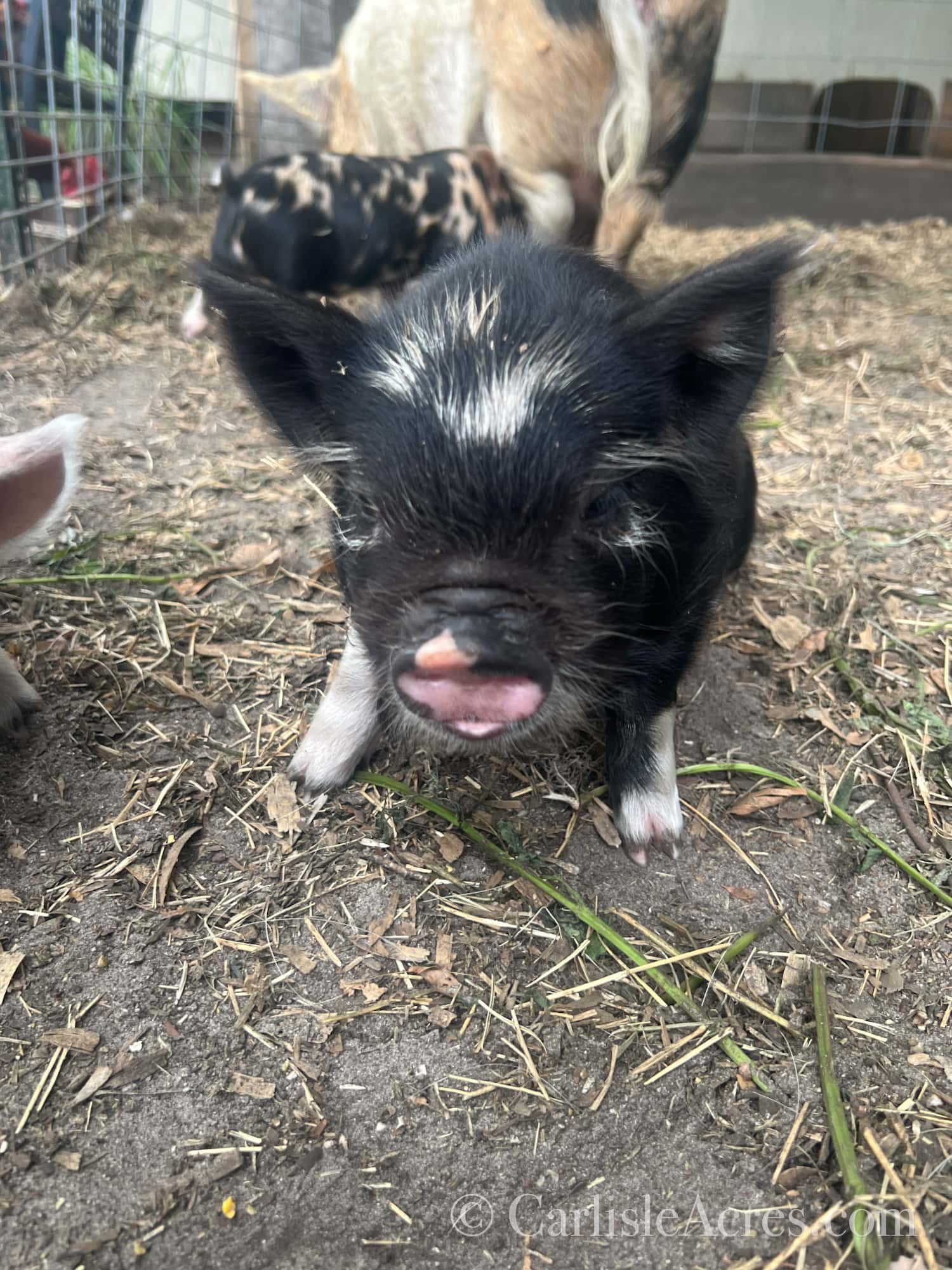 Below you will find a list of the current available kunekune pigs that are up for discussion at Carlisle Acres. Feel free to email or message us with any questions you may have.
All pigs will be…
Vaccinated
Microchipped
Dewormed
DNA Tested
AKKPS Registered
Preloved
We also provide full support to help you and your kunekune thrive.
Pricing
The price of each kunekune can vary based on bloodlines, confirmation, and coloring. Discounts are given for multiple pigs and return customers.
AKKPS Registered Piglets pricing starts at $500.
AKKPS Registered Proven Breeders pricing starts at $550
Barrows & Companion pigs (not registered as breeders) start at $250
Deposit
We do require a $200 deposit to reserve/hold a specific pig in your name. This goes toward the purchase price. We can not guarantee availability without a deposit. A piglet will not be held without a deposit!

Learn More about Making a Deposit

Breeders
We currently have 2 proven breeding boars available. Contact for pricing and transport options.
Shadow
AKKPS 15572
DOB 3/10/2021
Ru/BH Rebecca Gina
COI 5.5
Shadow is a prolific breeder. He knows his job. I would call him a medium/large boar. He is almost two and really growing into his own. He throws gorgeous piglets, usually with eyebrows like his. His boar babies are particularly stunning.
We aren't in a rush to sell Shadow. We will be letting him go only to the perfect home.
Luigi
AKKPS 16797
DOB 4/6/2021
BH Tutaki/Rona
COI 6.9
Luigi is Marios full brother. The only difference is he has no wattles. Luigi is not as fast of an eater as Mario so he is a bit smaller. We are working on that. He is a proven boar. He fathered a beautiful piglet with Phoebe on a split litter. Luigi has the softest hair and a sweet disposition.
We are retaining one of his gilts, and sold another to a prominent farm. He has amazing offspring.
We are offering him for sale to the right farm that will appreciate his personality and genetics and look past his wattles. Message us for more info.
Piglets
If the piglets are listed below they are still available. If sold, the listing will be removed. All registered piglets can not go home until over 8 weeks of age. A $200 deposit is required to hold your piglet. We do offer discounts on multiple pigs.
*If you are a farm that also raises registered Kunekune piglets we may be interested in a trade. Feel free to message us!
Important
Boarlings
"Hank the Tank"
AKKPS 25161
DOB 4/21/22
2 Wattles
5.2 COI
6/7 Teet line
Ru/Jenny
"Oliver"
AKKPS 26982
DOB 6/21/22
1 Wattles
5/5 teet line
7 COI
Andrew/Jenny
"Brûlée"
AKKPS 27738
DOB 7/16/22
2 Wattles
5.8 COI
6/7 teet line
Andrew/Jenny
"Ritz"
AKKPS 30399
DOB 10/7/22
Available to go home First week of January
2 Wattles
4.7 COI
6/5 Teet Line
BH Tutaki/BH Rebecca Gina
Solid Cream with faint ginger agouti
4 Week Weight – 8.8 LB
"Jack Sparrow" (sold)
AKKPS 30419
DOB 10/9/22
Available to go home First week of January
2 Wattles
6/5 teet line
4.8 COI
Ru/Rona
3 Week Weight : 9 lbs
"Davey Jones"
AKKPS 30417
DOB 10/9/22
Available to go home First week of January
2 Wattles
6/5 teet line
4.8 COI
Ru/Rona
3 Week Weight 6 lbs 6 oz
"Will Turner"
AKKPS 30418
DOB 10/9/22
Available to go home First week of January
2 Wattles
6/5 teet line
4.8 COI
Ru/Rona
3 Week Weight: 7 lbs
Gilts
"Tia"
AKKPS 27750
DOB 7/16/22
6/7 Teet Line
2 Wattles
5.8 COI
Jenny Andrew
"Butter Bean"
AKKPS 30396
DOB 10/7/22
Available to go home First week of January
0 Wattles
6/6 Teet Line
4.7 COI
BH Rebecca Gina/BH Tutaki
Cream
3 week weight: 6 lbs 6 oz
4 week Weight: 7lbs 10 oz
"Honey Bun"
AKKPS 30398
DOB 10/7/22
Available to go home First week of January
2 Wattles
5/6 Teet Line
4.7 COI
BH Rebecca Gina/BH Tutaki
cream
3 week weight: 6 lbs 4 oz
4 week weight: 7 lbs 4 oz
"Pearl"
AKKPS 30416
DOB 10/9/22
Available to go home First week of January
2 Wattles
6/6 teet line
Ginger/Black
4.8 COI
Rona/Ru
3 week weight: 9 lbs
4 week weight: 10 lbs 14 oz
"Isla"
AKKPS 30415
DOB 10/9/22
Available to go home First week of January
2 Wattles
6/6 teet line
Ginger/Black
4.8 COI
Rona/Ru
3 week weight: 5 lbs 10 oz