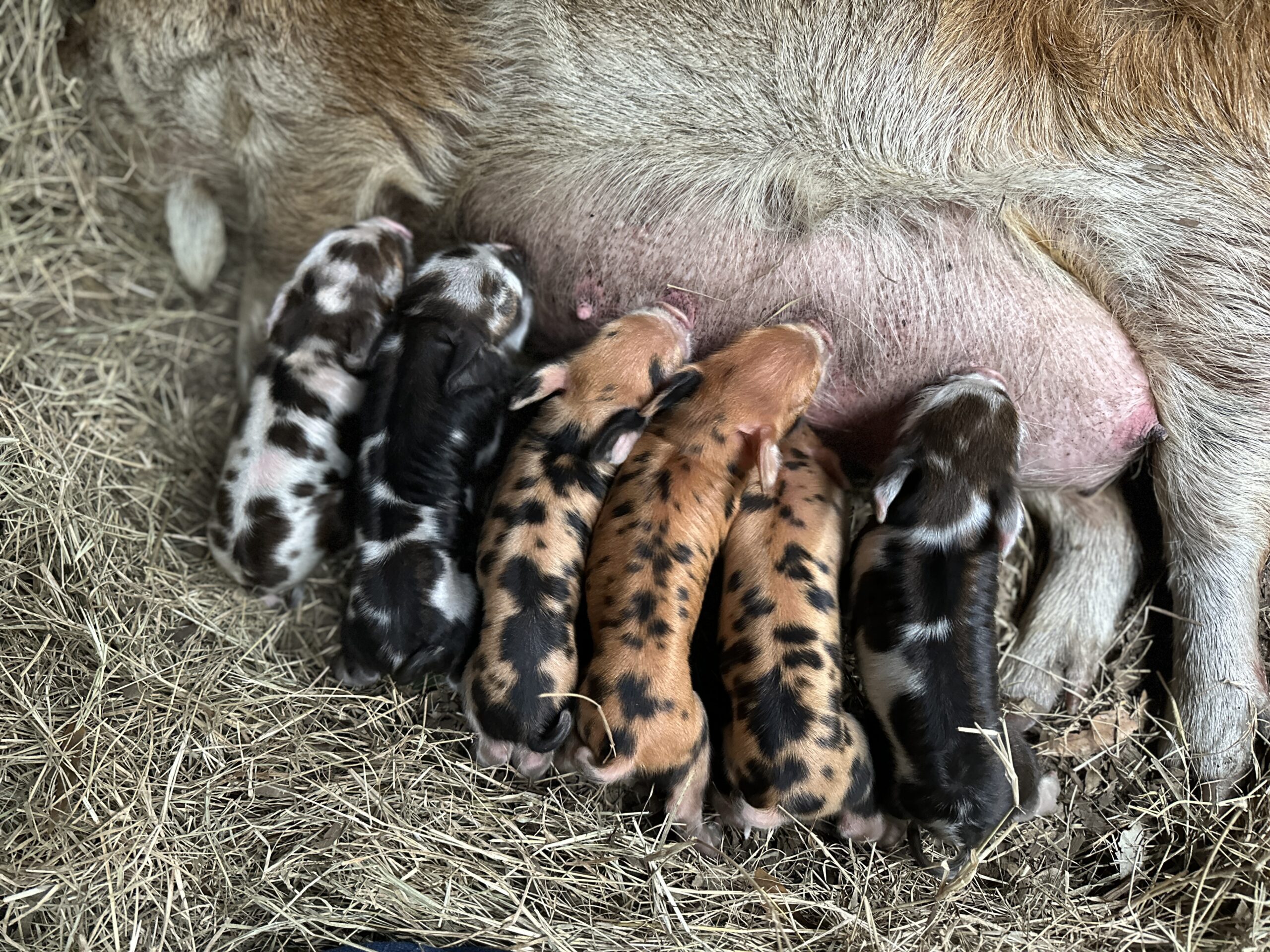 Below you will find a list of the current available kunekune pigs that are up for discussion at Carlisle Acres. Feel free to email or message us with any questions you may have. All of our pigs come with the following.
Full Support!
We truly love every pig that has been here at Carlisle Acres and we want to see them thrive. If at any time you have questions or concerns – Contact us! We offer full mentorship and support for our customers.
Pricing
The price of each kunekune can vary based on bloodlines, confirmation, and coloring.

*Discounts are given for multiple pigs and return customers.

– AKKPS Registered Piglets pricing starts at $500 and goes up.
– AKKPS Registered Proven Breeders pricing starts at $600 and goes up.
– Barrows & Companion pigs (not registered as breeders) start at $250.
Proven Breeders
Message for more info. Contact for pricing and transport options. We reserve sale of our breeders to others that are currently breeding and have experience with the breed.
Piglets
We have 3 litters that we are currently evaluating and will be posted shortly. If you are interested feel free to message us. Jenny, Rona, Mahia Love, BH Tutaki.
If the piglets are listed below they are still available. If sold, the listing will be removed. All registered piglets can not go home until over 10 weeks of age, depending on the piglet we can make an exception for 8 weeks. A $200 deposit is required to hold your registered piglet. We do offer discounts on multiple pigs.
Once a deposit is made you will receive regular photo/video updates until your piglet(s) is ready to go home. We will coordinate with you the best time to pick up or transport your piglet(s) to you.
*If you are a farm that also raises registered Kunekune piglets we may be interested in a trade. Feel free to message us!
Important
Boarlings
Gilts
Barrows/Pet gilt
Please message us and we will send you photos an info of what is currently available. Barrows are available at a lower rate. The deposit for barrow is $100.
Pet gilts are also available at a lower rate. There is a spay agreement in the contract. These are not to be used as breeders under any circumstances for health reasons.
The cost of the barrow covers the cost of vet castration, & vaccinations. Spaying of the gilt is the responsibility of the purchaser due to the extensive nature of the procedure.
Upcoming Litters
At this time we do not accept deposits for unborn piglets, however, we are happy to notify you when a litter is born. The dates below are due dates (or proposed due dates).
Next Litter due November 19
Other future pairings include
Vanilla Bean & Orion (Kereopa/Ru) (b) March
Aurora & Griffin (Aria Giana/Tuahuru) (b) March
Nymphadora Tonks & Atlas (Rona/Mahia Love) (b) March