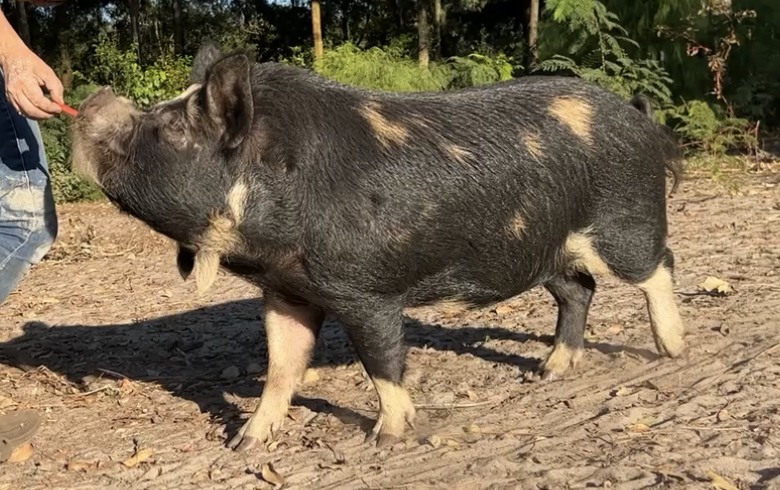 Boars
Here at Carlisle Acres we really have a soft spot for Kunekunes. We have a handful of AKKPS Registered breeding boars that do a service and a couple that will probably live out their days as pets. Take a peek at our current residents
Breeding Boar Bloodlines currently at Carlisle Acres are
Andrew
BH Tutaki
Ru
Mahia Love
Boris
Tonganui
Whakanui
Breeding
Shadow
AKKPS 15572
DOB 3/10/2021
Ru/BH Rebecca Gina
COI 5.5
Shadow is a prolific breeder. He knows his job. I would call him a medium/large boar. He is almost two and really growing into his own. He throws gorgeous piglets, usually with eyebrows like his.
We are considering making him available as a proven breeder to the right home because we are retaining his son, Orion.
Apollo
AKKPS 16284/IKHR 38189
DOB 3/29/2021
Andrew/Jenny
COI 13.5
Apollo is large! He is a longer bodied hefty boar with two wattles, floppy ears, and a huge heart. He is gentle and loves to smile and sit for extra snacks. He carries the agouti gene as well as throws solid cream babies. The ears are a bonus.
Mario
AKKPS 16795/IKHR 38187
DOB 4/6/2021
BH Tutaki/Rona
COI 6.9
Mario is the largest boar on property right now. He has very muscular shoulders and soft personality. He loves to stick his tongue out and takes snacks gently. Mario has the agouti gene and his first registered litter had 4 solid cream piglets.
Orion
AKKPS 25160
DOB 4/21/2022
Ru/Jenny
COI 5.2
Orion is our first homegrown boar. We had been looking for a tri-belted boar that worked well with our ladies, so we made our own. We are excited to see what he produces. He is stunning in every way. 6/7 teet line, double wattled, and tapeka treated.
Mandrake
AKKPS 22591/IKHR 38185
DOB 12/16/2021
BH Tutaki/Tapeka
COI 5.2
Mandrake "Manny" came to us from Higher Ground Homestead in Alabama. We have been watching him since he was born. He belt, curly hair, and body confirmation was everything we were looking for. When he came available we snatched him up. We have 3 pending Manny litter coming May 2023. We are also considering rehoming Manny at this time. We are trying to thin out our boar pen.
Atlas
AKKPS 28171 (Will be updated soon) IKHR 35264
DOB 6/28/2022
Mahia Love/Haunene
COI 1.5%
Atlas is coming to us al the way from Rutherford Family Farm in Rockdale, Tx! We are so lucky to be adding this unique color belted boar to our herd. Look for a litter from him in Fall 2023. He is such a snuggle bug. He had two wattles but lost one tussling after he arrived here.
Bruce Wayne (Batman)
AKKPS 30804
DOB 11/29/22
Boris/ Tarutaru
COI 5.8%
We've been watching for a Boris boar that would fit our program and our friends at Snake Doctor Farm in Missouri just had babies that are perfect. One little dark ginger and black masked marauder will be joining our herd in the spring!
Alastair Moody
DOB Feb 24, 2022
Whakanui/Haunene
COi 3.9683%
Tri (B)
0 Wattles
Alastair Moody came to us from our rescue mission in Arkansas. Normally we keep only double wattled boars, but this guy has us looking twice. He has a beautiful coloring, great bloodlines, and despite his living conditions (a great personality!) He came from a tough situation and is still very sweet.
Galileo
AKKPS 23330/ IKHR pending
DOB Feb 8, 2022
COI 4.3281%
Tonganui / Haunene
Brown/White
2 wattles
Galileo or Leo came to us from our Arkansas trip. He is originally from Snake Doctor Farm and our friend Denise. I know he comes from great genetics. He needs a little TLC right now. He is a bit underfed, and we are working to build up his condition. We can't wait to see what kind of boar he grows up to be. Right now he loves a good belly rub and a big bowl of dinner.
Pet
Pongo
AKKPS 16195
DOB 3/28/2021
Andrew/Jenny
COI 4.7%
Pongo was originally purchased as a breeder when we were first starting out. He is a gorgeous, super sweet boar. The problem is he is deaf. We were unaware that his mother was line bred and has a very HIGH COI despite Pongo's being low. He inherited the deafness from his mother (who we weren't told was deaf at the time.) This boy is so personable and is destined to be a pet either here or on a new farm at some point, but he will be loved no matter what.
Stuart
AKKPS 16191
DOB 3/28/2021
Andrew/Jenny
COI 4.7
Stuart Little is Pongo's brother. The day we brought Pongo home at about 8 weeks Stuart was only about 5 lbs. He had head tilt and was very sick. It took us WEEKS to get him off deaths door. He is still not as sturdy as the other boars, but it's Stuart. He is also deaf and we believe has a hard time seeing as well as he should. Obviously Stuart will never be bred and lives here as a pet. The other boars watch after him and Apollo is always snuggling him.