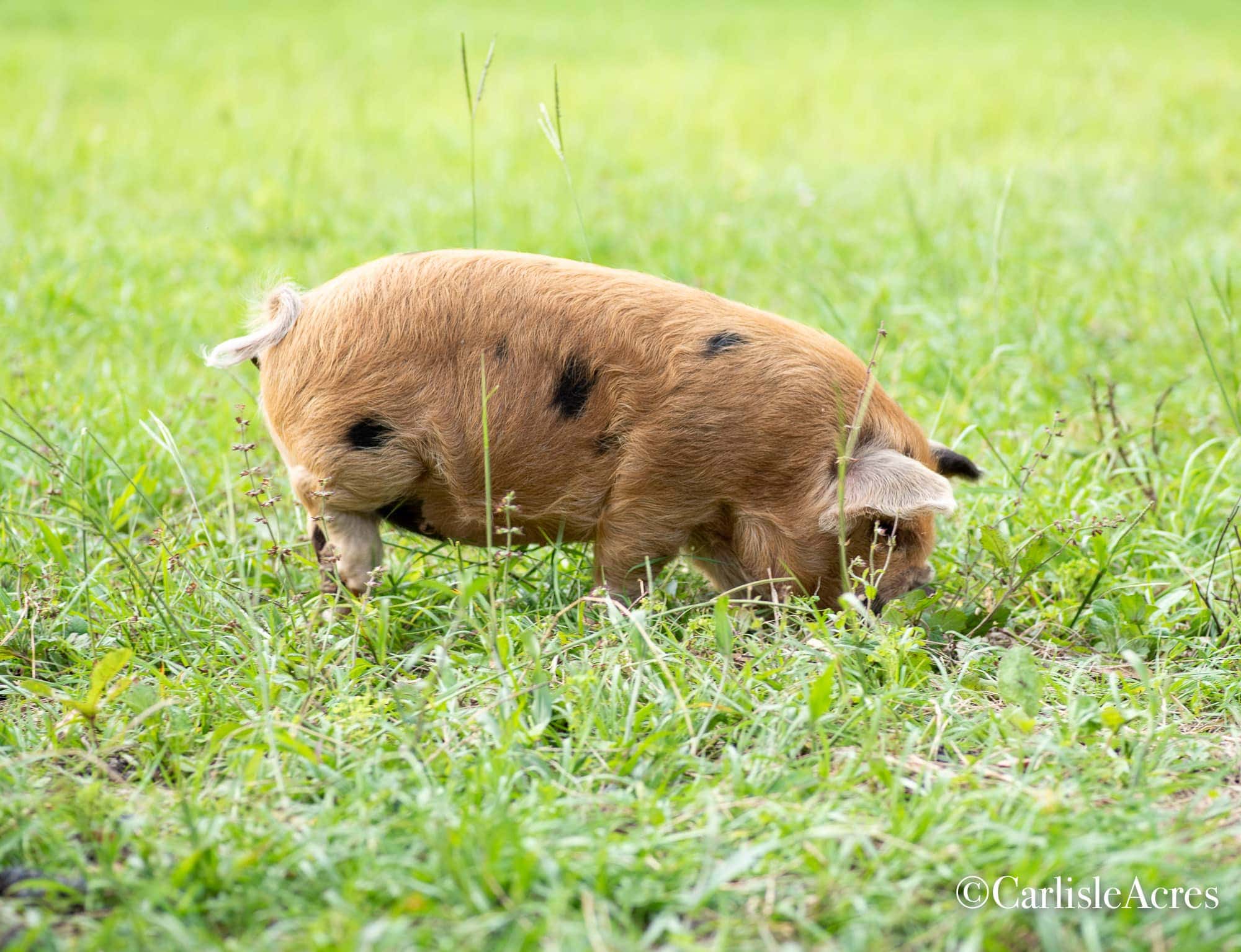 Breeding Gilts & Sows
Here at Carlisle Acres we currently have 2 unregistered gilts, 10 registered gilt/sows. We love all of our girls and only keep pigs that we feel are a great representation of the breed, have wonderful temperaments, and are naturally healthy.
We have retained a couple gilts from litters born here and we can't wait to improve on our existing lines! We strive to build a name for Carlisle Acres Kunekunes that sets us apart from other breeders.
Registered Sows/Gilts
Stella
Sally/TeWhangi
February 10,2021
AKKPS 15829
Wattles: 0
COI 4.4%
6/6 Teet line
Stella is a love bug! This Ginger gilt with black spots is one of the first to come to snuggle and get belly rubs.
She had a litter of 4 including 2 solid creams her first litter
Luna
Jenny/Tutanekai
February 5, 2021
AKKPS 15118/IKHR 38184
Wattles: 2
COI 8.4%
6/6 Teet line
Luna is stunning. This Ginger with Cream agouti stripes has beautiful conformation. She is sweet but a little bashful until she gets to know you.
Luna is a swallow belly. She is the grand-daughter of Maui (the original Tutanekai import from New Zealand)
Her first litter was a litter of 14!!!
Ophelia
Jenny/Tonganui
January 26, 2021
Akkps 16147
Wattles: 0
COI: 5.7%
6/7 Teet Line
Ophelia is a beautiful banded tri-color gilt. She is a fast grower. In fact she is one of our largest gilts for her age.
She has large ears, and a longer body and nose compared to some of our other gilts.
She has had two litter of big, beautiful piglets. Both litters of 6.
Lottie Dottie
BH Rebecca Gina/ Whakanui
April 6, 2021
AKKPS 16260
Wattles: 2
COI 4.1%
6/6 Teet Line
Lottie Dottie came to us from Higher Ground Homestead in Alabama. Lottie Dottie is a High White that carries the Tapeka trait.
She recently had her first litter of 5! She had an easy farrowing and kept her condition great throughout nursing.
Calypso
Rona/Tutaki
June 13, 2021
Akkps 18195 / IKHR 38185
Wattles: 2
COI: 4.5%
6/6 Teet Line
This ginger girl is full of personality. Not only is Calypso a big girl that has an amazing body structure, she loves to talk to you. This little Calli-gator loves snacks, laying in the sun, and kisses. She has a unique cow-lick on her back.
Her first litter was a huge litter of 6.
Celeste
Haunene/TeWhangi
June 21, 2021
AKKPS 18210 / IKHR 38188
Wattles: 2
COI 3.6%
7/7 Teet Line
This girl is petite for now, but she has a huge personality. Celeste is one of the most snuggly girls. She is currently bred to either Mandrake (BH Tutaki) or Orion (ru) from May 2023 babies.
Vanilla Bean
Kereopa/Mahia Love
October 29, 2021
Akkps 22410
Wattles: 1
COI: 9.5%
5/6 Teet Line
A beautiful High White Banded Tri-color girl, Vanilla Bean's fun trait is one wattle. Honestly, I believe she had 2 at one point, but maybe lost one (even in utero).
Vanilla belongs to our Daughter, Audrey. She is starting her own little herd. Vanilla is possible bred to Mandrake for May babies.
Halley
Momona/Ru
July 13 2022
AKKPS 27619
Wattles: 0
COI 3.6%
7/7 Teet Line
Big girl, big personality! We got Halley from Snake Doctor Farm in Missouri and can't wait to see the sow she grows into. She will bring size and color variation to our herd.
Aurora Seraphina
Aria Giana/Andrew
October 5, 2022
Akkps 29741 / IKHR PENDING
Wattles: 2
COI: 8.2%
5/5 Teet Line
Aurora Seraphina (Rory) is coming to us from Holy Springs Kunekunes in Alabama. We have been watching this girl and had to have her. Her lineage practically speaks for itself. She doesn't just look on paper though, she is beautiful.
Rosalind
Haunene/Boris
April 25, 2021
Akkps 16928 / IKHR PENDING
Wattles: 2
COI: 2.8992%
6/6 Teet Line
Rosalind (Aka Jolene) comes with a back story. We bought/rescued her from a farm in Arkansas. She is a beautiful girl that has some trust issues and showed up here pregnant. We are working on gaining her trust, and helping her through her pregnancy.
Pandora
Jenny/Whakanui
Nov 3, 2021
AKKPS 22136
Wattles: 2
COI: 4.4578%
6/6 Teet Line
Pandora (AKA Libby) also came to us from our farm rescue in Arkansas. She is much more trusting and easy going than Rosalind. She loves a good belly rub, a snack, and to play in her water bowl. Dora is also bred and we are expecting babies sometime in March 2023
Homegrown Gilts
Fortuna Lucia
BH Rebecca Gina/ BH Tutaki
November 7, 2022
Akkps 30395
Wattles: 0
COI: 4.7%
5/5 Teet Line
We retained this girl from Lottie Dottie. We named her Fortuna Lucia , which means Luck & light in Latin. Lucy is a beautiful black and white banded homegrown gilt is sure to do great things.
NymphadoraTonks
Rona/Ru
November 9, 2022
AKKPS 30415
Wattles: 2
COI: 4.8%
6/6 Teet Line
Miss Tonks is our keeper from Calypso's litter. We chose to name her Nymphadora Tonks. One because we love Harry Potter, Two she is a "Tonky" girl, and Three what else do you name the daughter of Calypso besides Nymph.
Tonks is one of the largest in her litter and just a sweet as can be. She loves to talk and get excited to see you. Belly rubs are her favorite and so is eating. We can't want to watch her grown.