Ophelia – Banded Jenny Gilt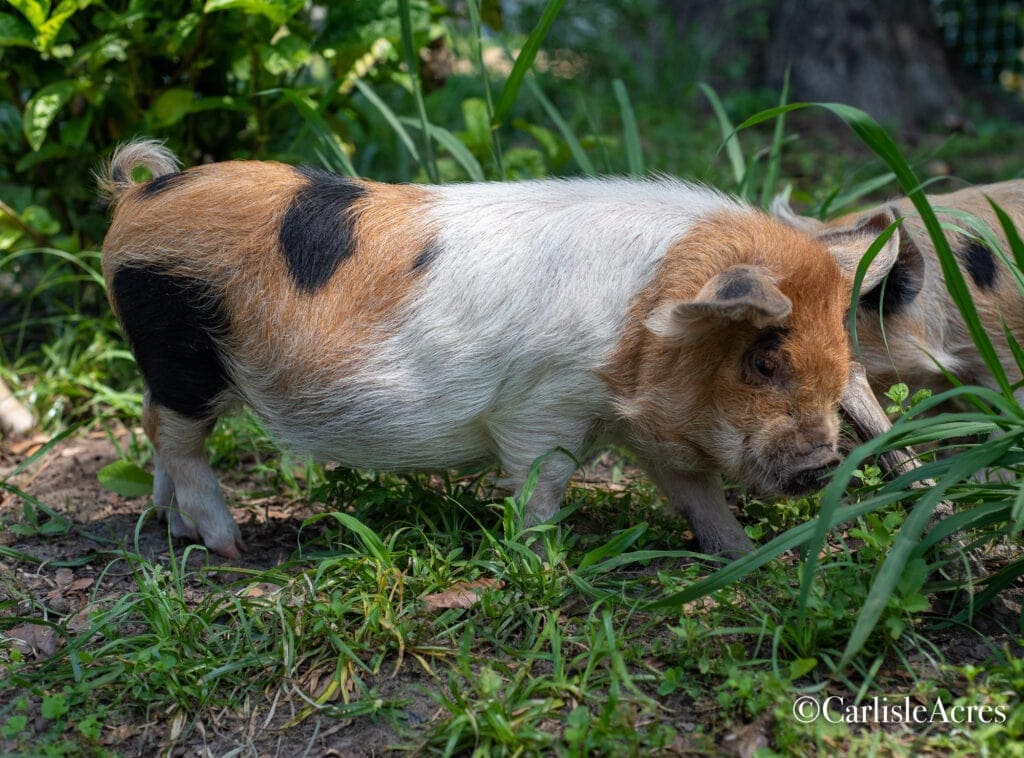 I love these posts. I get to introduce you to all of these cuties. Meet Ophelia. She came to us from Waddle Patch Farm in Trenton, Florida. She is a proud carrier of the Tapeka trait and a beautiful band.
Quick Stats
Birthdate: 1/26/2021
Bloodlines: Jenny/Tonganui
AKKPS #: 16147
Wattles: 0
Coloring: Ginger & Black Banded
COI: 5.7%
Teats: 6/7 uneven
Name
Miss Ophelia was named after one of the moons of Uranus. We are trying to stick with a astrological theme for the names of the girls. Frankly, Ophelia just fit Miss O perfectly.
Temperment
From the day we picked her up Miss O has been calm, but on her own page. She loves to graze, demands bathes from our cow, Poppy, and is becoming quite found of belly rubs.
Honestly she is a joy to be around. Not as snuggly as some, but she still loves attention.
Growth/Size
When we picked up Ophelia we thought she was a little small. Just a couple of weeks in and this girl can eat. She is starting to catch up in size to Tiana, and that is saying something. She is going to be a big girl. Her growth rate is one of the fastest we have here on the farm.
Due to her quick growth we plan on letting Ophelia have the first registered litter here at Carlisle Acres. The plan is to let her breed with Raymond in February 2022.
Distinctions
A few things about Miss O that are different.
She is very patient with the other pigs.
She has a unique black marking on her back that looks like fairy wings.
She has large ears that are just so cute.
Loves mud, but likes a good bath too!